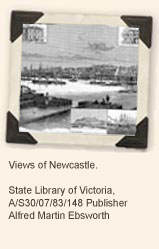 During the decade of the 1830s, the colony of New South Wales was turning from a distant outpost of the British empire into a growing and prosperous hub. Wool exports into the British market drove the wealth, and some families became wealthier beyond even their wildest hopes. In 1838, a regatta took place on Sydney Harbour to celebrate the 50th anniversary of the New South Wales colony. Van Diemen's Land, Swan River and South Australia were already separated and celebrated their anniversaries as free colonies.
Away from the towns, the majority of First Nations peoples were still living on country and resisting settlement by the new arrivals. Smallpox and other introduced diseases like influenza and tuberculosis were having a devastating impact. The majority of First Nations peoples were relocated from Tasmania to Flinders Island, including Truganini in 1830.
In 1836 the Mogo ground-edged hatchet tool was gifted to a young woman by a First Nations man in Manly, Sydney. The stone in the tool has been sourced at a quarry 1,000 kilometres from Manly, an example of established trade routes for materials.
British policy continued to encourage free migration to Australia including schemes to encourage young women to migrate, with men still significantly outnumbering women in the colonies. Thousands of women migrated to the Australian colonies from Britain and Ireland. For example, between 1833 and 1837, the London Emigration Committee dispatched 14 ships to the Australian colonies with over half the migrants young, single women carefully selected by the London Emigration Committee.
During the 1830s, questions were raised in Britain about the brutality of the penal system. The harsh treatment handed out to the convicts often forced them to escape into the bush, living with First Nations peoples or becoming bushrangers. By 1830, bushrangers had become so troublesome that the New South Wales government introduced an Act allowing anyone to stop a person they suspected to be a bushranger.