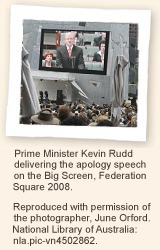 The 2000s opened with optimism but soon turned to fear. Sydney welcomed the world to the Olympic Games in 2000 and the Centenary of Federation in 2001 was an opportunity to celebrate. But also in 2001, with the September 11 terrorist attacks, dawned years of fear and racial tension. It was also the decade where we took a significant step towards reconciliation - by saying Sorry to the Stolen Generations.
The Centenary of Federation marked 100 years of Australia's successful, modern democracy. The year opened with the January re-enactment of the 1901 Inauguration procession in Sydney. In September, the Yeperenye Festival at Alice Springs told the First Nations story of Australian history.
The terrorist attacks in the USA on 11 September 2001 changed the political and security environment. There were further terrorist attacks in Bali 2002, and London and Madrid 2005. Fear of attack led to increasing surveillance in public places and Australian troops were sent to Iraq and Afghanistan. Debate over the arrival of people seeking asylum was fierce with people sent to offshore detention facilities. Three days of rioting on the beach at Cronulla in 2005 revealed the deep racial tensions at this time.
On 13 February 2008 the new Prime Minister Kevin Rudd presented an official national apology to the Stolen Generations. The Stolen Generations were First Nations peoples who had been removed from their families and placed in institutional care. On the evening of the national apology, Ngambri and Wiradjuri Elder Matilda House performed the first Welcome to Country at Parliament House.
In 2008, the Global Financial Crisis triggered a worldwide recession, the worse since the Great Depression. Due to strong demand for Australian minerals from China, and new government funding from the Rudd government, recession was avoided in Australia, one of the few countries in the western world to do so.