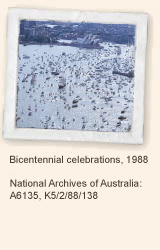 After the social revolution of the 1970s, the 1980s witnessed an economic revolution that proved to be equally as far-reaching. At the same time, environmental and First Nations issues were gaining attention through the actions of everyday Australians.
The newly elected Hawke government changed how the economy worked. To keep inflation and wage rises down, Hawke negotiated the first of six Accord agreements between unions, employers and government. He also deregulated key industries, removed tariff protection and floated the Australian dollar. Removing this kind of protection on Australian industries, increased competition from overseas and brought Australia more fully into the global economy.
The environment continued to be an issue of concern for Australians, the most famous example, but not the only one, was the campaign to save the Tasmanian wilderness and Franklin River. It had been proposed to dam the river but a significant grassroots campaign ensured that it became an election issue in 1983. The newly elected Hawke government took the Tasmanian state government to the High Court and stopped construction of the dam.
First Nations peoples continued to call for land rights. In 1982 a large gathering of First Nations activists protested at the Commonwealth Games in Brisbane chanting 'the whole world is watching' to bring attention to land rights. In 1985 the Hawke government handed back ownership for the Uluru-Kata Tjuta National Park to the Anangu people. In 1987, Sally Morgan's My Place was published and considered a breakthrough memoir for bringing First Nation experiences to a wider audience.
Migration from many countries continued including from Vietnam, Cambodia and Sudan, as well as New Zealand, the United Kingdom and China. In 1984, a landmark piece of legislation achieved the hopes of generations of women. With the Sex Discrimination Act 1984, it was now illegal to discriminate against women because of their gender.