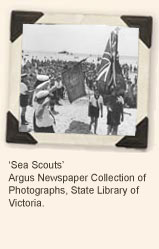 From 1810 to 1821, the fledging colony of New South Wales underwent significant transformation at the hands of Governor Lachlan Macquarie and his wife Elizabeth Macquarie. Their vision for the colony was to transform it from a penal convict establishment to a society reflective of the best of Britain.
Macquarie believed in the potential of emancipated and reformed convicts to create a new society and supported their participation in business and society. He also implemented a large public works program and the establishment of legal and commercial institutions. With an extensive building program, Sydney grew through these years with new roads and bridges, the new botanical gardens, the first hospital, a supreme court and Hyde Park Barracks. He also encouraged building works like roads and bridges around Sydney and in Hobart.
Attempts were made to assimilate First Nations peoples, with the first mission stations and institutions set-up to teach European ways, and to be used as cheap or free labour. This caused great tension and was widely resisted among First Nations communities. The Native Institution is one example, established in 1814 at Parramatta, a children's home and school. It was the first school for Aboriginal children in New South Wales but also started the government practice of removing Aboriginal children from their families and culture.
During this decade, more convict and free migration was encouraged to the colony. Convicts continued to arrive in substantial numbers. The Napoleonic Wars had ended in British victory against the French, meaning troops returned home looking for work. Unable to find work, some turned to crime and once sentenced they were transported to New South Wales. During this time the number of free settlers tripled, and by the end of the decade, the free settlers had outnumbered the convicts.