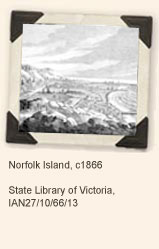 The decade of the 1820s saw settlers push the boundaries set by government as they looked for more farming land. In 1826, the Governor of New South Wales had restricted settlement to an area around Sydney but graziers ignored this and settled beyond the boundaries.
New institutions of government arrived in the colony during this decade. The first legislative council was set up to advise the governor of New South Wales in 1824. In 1823, the newly established Supreme Court of New South Wales and Supreme Court of Van Diemen's Land administered justice for both civil and criminal cases. The Australian Courts Act 1828 (UK) ensured that the laws of England would be applied in Australia, especially that trial by jury would operate in civil cases. From 1825, English currency became the official currency. First Nations laws and culture were ignored when these English laws were introduced to Australia. As the British established more penal settlements, First Nations people resisted this expansion.
Following the reforms of Governor Macquarie, who returned to England in 1821, Britain was increasingly concerned that the colony was not strict enough with convicts. The British government wanted transportation to be seen by the general population as a terrifying prospect and as a deterrent to crime. New convict settlements were then set-up at Moreton Bay, Macquarie Harbour and Port Macquarie.