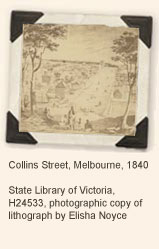 The 1840s were years of conflict, as British settlers increasingly moved out away from the settled towns seeking new farmland, First Nations fought back and resisted this expansion. Massacres took place across the country, the majority of which were unrecorded. Recent research is only now revealing the extent and number of Aboriginal people killed.
The Port Phillip District in Victoria grew rapidly and by the end of the 1840s it had more sheep, 6 million, than population, about 70,000 people. During this decade its inhabitants increasingly wanted independence from New South Wales and sent petitions to the British Government seeking permission to separate.
Squatters, who leased large pastoral lands from the colonial governments in New South Wales, Tasmania, Victoria and into Queensland and South Australia, increasingly gained political and economic influence. They became wealthy off the land leased at low rates, stocking them with thousands of sheep, with their fleeces sold into the British market. Many squatters, with time and money, stood for election to parliament to set the laws and rules in their favour.
During the 1840s, transportation of convicts to the east coast of Australia ended and reflected the growing wish to move away from being a convict society. The colonists also wanted greater control over the political decision-making in local affairs. Two elections in different parts of the country are an example of this aspiration. Australia's first political election was conducted to vote in the council and mayor of Adelaide in 1840. The first parliamentary election for the New South Wales Legislative Council was held in 1843.