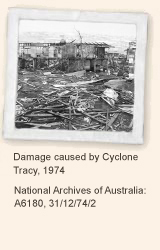 The 1970s was a decade of great debate and social change. Old ways were overturned as women, peace activists and First Nations peoples sought to be heard. Opposition to Australia's involvement in the war in Vietnam spilled onto the streets. The largest street protest was the first moratorium march in 1970 around the nation. The second and third moratorium marches in 1970 and 1971 also saw large crowds. Withdrawal of Australia's troops began under a Liberal government in 1970 and was finished by the newly elected Labor government in 1973.
The Women's Movement, from the mid-1960s, continued to gain supporters. Access to employment, contraception and childcare were key issues for this second wave of women's action. The first government funding of childcare was in 1972. The first refuges for women and children fleeing family and domestic violence were set up in 1974 in Sydney, and soon after in Canberra, Perth and other towns.
In 1972 First Nations activists established the Aboriginal Embassy on the lawns opposite Parliament House in Canberra. The Embassy was established as a site of protest and advocacy for land rights and has since expanded to highlight self-determination and sovereignty. The Embassy is the longest continuing documented protest in our history.
In 1975 Vincent Lingiari, a Gurindji man from Daguragu, Northern Territory was granted legal transfer of land by Prime Minister Whitlam on behalf of the Australian Government. Lingiari was one of the leaders of the 1966 Wave Hill Walk Off. The Aboriginal Land Rights (Northern Territory) Amendment Act, 1976 was the first legislation which recognised First Nations land rights. Also, in 1976 the Tasmanian Museum and Art Gallery returned the remains of Truganini, a Nuenonne woman, back to the Tasmanian Aboriginal community, one of the first repatriation of remains or cultural items to their communities of origin.
The Whitlam government was elected in 1972 riding the wave of protest. The new government introduced significant changes including free university education, made the contraceptive pill affordable, and reopened the equal pay case. In 1973, the decision was made by the Conciliation and Arbitration Commission to set an equal minimum wage for all regardless of gender. Before that time rates set for men were higher than those set for women.
The economic boom of the post-war years though was coming to an end. Oil producing countries of the Middle East put on an oil embargo to protest Israel's Yom Kippur war in 1973. The flow on impact of the embargo triggered high inflation and unemployment around the world. After a period of political struggle, questions over his economic management including the 'Loans Affair', and a stand-off over the passing of budget, the Governor-General dismissed Prime Minister Whitlam, who lost the subsequent election in 1975.