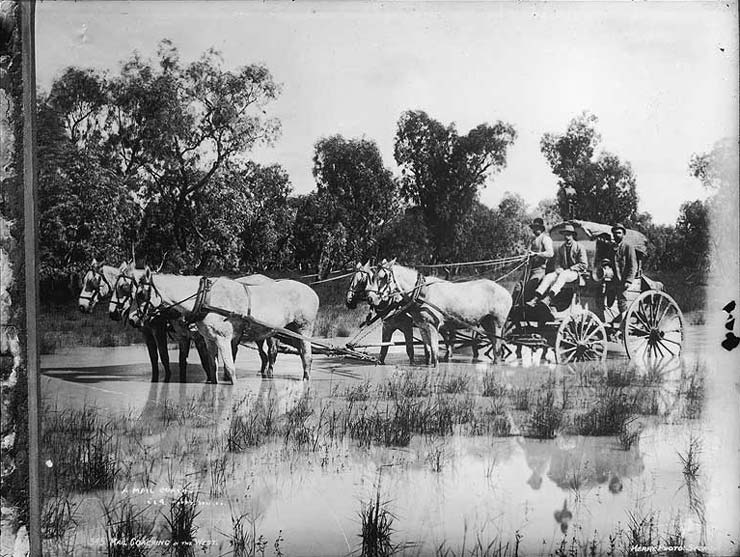 Description
This is a black-and-white photograph from a silver gelatin dry-plate glass negative, titled 'Mail Coach', produced by the studio of Charles Kerry and Co, Sydney. The image depicts a mail coach drawn by five horses. There are three men riding on the coach, which has a canvas cover on the back and a gas lantern on the side. The coach is travelling through a shallow swamp or flooded area, with water up to the horses' calves. The description by the Powerhouse Museum suggests that this image shows the overland Sydney-to-Melbourne mail service. The caption, studio number and studio mark are inscribed on the reverse of the negative.
Educational value
This asset shows how mail was delivered to rural and outback communities in the late 19th century - delivery of mail by coaches began in 1828; mail has always been an important form of communication and has been vital to establishing links and reducing the isolation of Australian rural and outback communities.
It is evidence of the early history of Australia's postal service - Australia's first official Postmaster was Isaac Nichols, an ex-convict who was appointed in 1809 to run a mail service from his home at Circular Quay, and in 1901, when Australia federated, the Commonwealth Government established the Postmaster-General's Department to provide postal services to the nation.
It probably shows an example of the overland Sydney-to-Melbourne transport service, which commenced in 1837 by packhorse mail coach - coaches were used extensively for this service until supplanted by coastal steamer and rail from 1855; when the rail network was at its height in the 1880s, coaches would pick up mail from the railheads and deliver them to regional areas.
It shows a mail coach that is likely to be a Cobb and Co coach - in 1863 Cobb and Co became the official carrier of mail in both New South Wales and Victoria; with the stability of this monopoly contract, Cobb and Co was able to develop a large and high-quality network of coaches that operated from the early 1860s until the last coach ran on a Royal Mail service in western Queensland in 1924.
It depicts the use of horses as an essential form of transport that lasted until well into the 20th century - it takes only a fifth of the time on horseback to complete a journey as it does on foot, and horses could tackle long distances; in 1901, Australia had 1,662,000 horses, one for every two people, and the horse population peaked in 1918 at just over 2.5 million.
It shows the rough and unpredictable terrain that the mail coaches could encounter - many of the roads would have been dirt tracks, and were prone to flooding, landslips and other natural events; the cart is equipped with lanterns for the times when the journey may have extended into the night.
It is an example of a photograph produced from glass negatives coated with gelatin ('dry-plate' negatives), which allowed photographers to take pictures with relative freedom and speed - before the invention of dry-plate negatives in 1878, photographers used 'wet-plate' negatives, which had to be exposed while the collodion emulsion on them was still wet and then had to be developed immediately, requiring photographers to carry a great deal of equipment (mini-darkrooms) with them; gelatin-coated glass negatives could be exposed at any time and developed at the convenience of the photographer.
It shows how a photographer staged a scene for the purposes of the photograph - the horses appear to have stopped moving, presumably so that the photographer could prevent camera blur; if an object moves while the shutter is open, this causes camera blur; camera blur was common with cameras of this period that had slow shutter speeds.
It was produced by the photographic studio of Charles Kerry (1858-1928) - Kerry began his career as a photographer about 1875, working for a Sydney portrait photographer, and by 1884 had taken over the business; in 1890 he was appointed official photographer to the Governor of New South Wales; and in 1898 Charles Kerry and Co moved into a purpose-built photographic studio, and continues to operate until 1917; the work of Kerry and his studio photographers included street scenes, parades, race meetings, cricket matches, rural scenes, sailing on Sydney Harbour, interior views of the Jenolan caves and, travelling around the colony, Aboriginal peoples, squatters' land, homesteads, families and livestock.