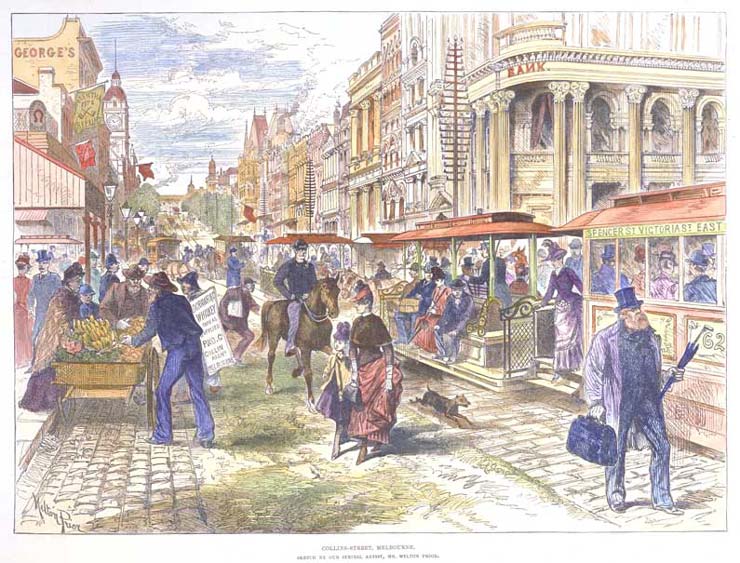 Description
This is an 1889 hand-coloured 25 cm x 33.5 cm wood engraving of Collins Street, Melbourne, Victoria, looking east from Elizabeth Street. The street is filled with activity - pedestrians are buying fruit and vegetables from a handcart, a boy is 'wearing' an advertising board and people are travelling by tram, wagon and on horseback. Telegraph poles are prominent on the thoroughfare, which is paved with flagstones, cobbles and bricks. A bank is among the buildings that line the street. Several buildings have signs and flags, and the Melbourne Town Hall is recognisable by its clock.
Educational value
This asset depicts Melbourne as a busy, bustling city at the end of a 'boom' period, when gold, agriculture and manufacturing had made Melbourne the economic and administrative centre of the Australian colonies - during the 1880s, with a population approaching half a million people, it was known as 'marvellous Melbourne', for it was larger than most European capitals and was the second largest city in the British Empire; during the boom years between 1880 and 1890, immigrants flocked to the city and land values soared.
It shows some of the ornate Victorian buildings in the 'golden mile', Melbourne's heart of commerce and business during the 19th century, including 'George's', the elegant, expensive store that became a local landmark, and the Old Treasury Building at the far end of the street - today, only London has more surviving buildings from the Victorian era than Melbourne.
It gives a sanitised view of Melbourne's cobbled streets, that were actually so dirty and odorous that the city was parodied as 'marvellous Smellbourne' - the majority of sewage from houses, including 'grey water', emptied into open drains that flowed into street channels where it mixed with waste from stables and industries; all of Melbourne's natural watercourses became open sewers flowing into Port Phillip Bay until 1891, when construction began on Melbourne's sewerage system.
It shows the cast-iron gas streetlights that lit Melbourne's streets between the early 1860s and 1910, when they were replaced with electric lighting - cast-iron patterns can also be clearly seen on the closest of the open trams; decorative cast iron was manufactured from pig-iron bars that arrived as ship's ballast; it became very popular in the 1880s, featuring in virtually every new balcony and veranda in the city.
It depicts some of the cable trams that were a common sight in Melbourne after the Melbourne Tramway and Omnibus Company introduced the city's first cable tramline in 1885 - by 1890, Melbourne had a dense network of public transport that included cable trams, buses and suburban trains operated by private companies and suburban municipalities.
It includes telegraph poles holding many wires - Melbourne's first telegraph service began in 1854; unlike modern telephone lines, that can carry multiple calls on each line, each telegraph line could only carry one morse code message at a time, necessitating the use of separate lines to each telegraph operator.
It features produce being sold from a small handcart in the street and a boy wearing an advertising sign - people often sold food they had grown or made themselves on roadsides, although the inclusion of bananas here suggests a higher level of retail activity; people wearing signs became mobile advertisements, attracting people to shops by calling out special offers.
It shows clothing that was fashionable in the Victorian era, when hats were an essential accessory for both sexes - men grew stylish beards or moustaches, wore three-piece suits in the daytime, and often carried an umbrella or cane; women wore their hair 'up' and dressed in long skirts and blouses, or long dresses (that were often actually a separate bodice and skirt), while their accessories included capes, shawls and parasols.