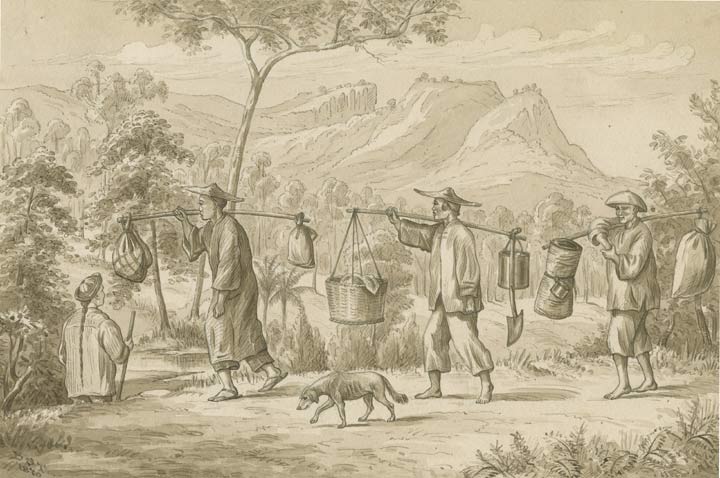 Description
This pen-and-wash sketch dated 9 December 1870 depicts four Chinese men and a dog on the way to the gold fields at Ravenswood in northern Queensland. Made by Donald Sydney Thistlethwayte it is titled ''Celestials' on the way to Ravenswood diggings'. The men are dressed in traditional Chinese clothing. One wears sandals and two others are barefoot. Three of the men carry objects, including woven baskets, a shovel and bags, on poles over their shoulders as they walk. The fourth holds a staff as he waits for the others on a lower section of the path.
Educational value
This illustration depicts some of the thousands of Chinese people who came to Qld and other parts of Australia in the 19th century to make their fortunes on the gold fields. Between 1849 and 1899, more than 100,000 Chinese people came to Australia, mostly pursuing gold. By 1870 more than 2,000 Chinese people had migrated to various gold fields in Qld.
The Chinese men in the drawing are on their way to Ravenswood, south of Townsville, where gold was found in 1868 and where by early 1869 more than 100 men were making a living from it. Some alluvial gold had been discovered and, with relatively easy access to the coast, a canvas village soon gave way to a substantial iron-roofed and weatherboard town.
The rise of anti-Chinese prejudice on the Australian gold fields led to legislation to restrict their rights in the colonies. In 1877 Chinese people were ordered to pay higher licence fees to mine and then in 1878 the Qld Goldfields Amendment Act excluded Chinese people from new fields for three years unless an Asiatic or African person had made the discovery.
The clothing the Chinese men are wearing and their hairstyle were visual reminders of their cultural difference. The clothing comprised collarless long-sleeved jackets, long robes, conical hats, loose wide-sleeved shirts, knee-high trousers, long baggy trousers and sandal-like shoes, and they wore their hair in queues (plaits).
Three of the Chinese men in the drawing are carrying their goods on a pole over their shoulders, a Chinese custom that placed the load evenly and was a convenient way of transporting goods in the absence of wheeled transport or load-carrying animals. Efficient work practices such as this made Chinese miners a competitive force on the gold fields, which in turn led to greater hostility towards and prejudice against them.
The Chinese miners shown here were likely to have been confronted by European miners on the field as both groups competed to make their fortunes as quickly as possible. Qld continued a pattern of racial violence against Chinese people that had begun in gold fields in the southern states. In Qld, racially motivated violence directed against Chinese people began in the late 1860s and early 1870s, with the discovery of gold.