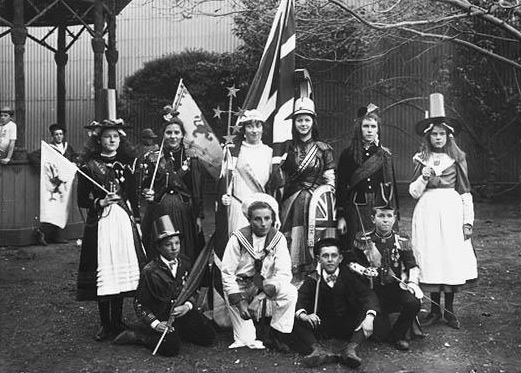 Description
This is a posed black-and-white photograph taken in Melbourne of a group of ten children wearing fancy dress and national costumes as part of an event to mark the opening of the first Australian Parliament in May 1901. The two girls in the centre of the back row are dressed as Australia holding the Southern Cross (on the left) and Britannia holding a shield (on the right). The rest of the girls in the back row are dressed in Welsh or Scottish costumes, while the boys in the front row are in naval or Welsh costumes.
Educational value
Children and young people frequently form part of mass celebrations in Australia and the fortnight-long program of celebrations surrounding the opening of the first Australian Parliament on 9 May 1901 in Melbourne was no exception. This group of children took part in the State Schools' Demonstration held outside the Exhibition Building on 11 May. Some 10,000 students from 57 metropolitan Melbourne schools were involved, including a choir of 5,000.
Unlike today's audiences, spectators at mass celebrations in the early 20th century did not expect fast-paced spectacular action, and these children were involved in a spectacle that was quite the reverse. They were the centrepiece of a patriotic tableau - a representation of a scene showing Australia's allegiance to Great Britain created by children wearing appropriate costumes, placed in appropriate postures, and remaining absolutely silent and motionless.
Australia is represented by the figure of a classical maiden, at the time a very common symbol of the newly federated nation, holding a pole with the stars of the Southern Cross. The Southern Cross was a symbol used on many occasions in the campaign for Federation in Australia, and it later appeared on the Australian flag. On the face of it, the stars of the Southern Cross are the only hint that this is a scene taking place in the southern hemisphere.
Although the birth of a nation was the theme of the children's tableau, it was very much a British nation being portrayed. The other major character is Britannia, the typical personification of Great Britain ruling the waves, and the tableau consists of around 150 children dressed in costumes representing England, Scotland and Wales standing in a semicircle around the figures of Australia and Britannia, overshadowed by a huge Union Jack flag.
At the time of Federation, Australia did not yet have its own flag and a design competition for one was launched by Australia's first prime minister, Edmund Barton (1849-1920). It attracted almost 33,000 entries, but five near-identical flags were judged equal first, and the flag used today was first flown in Melbourne in September 1901. The Union Jack appeared alongside the Australian flag at national events well into the 1950s.