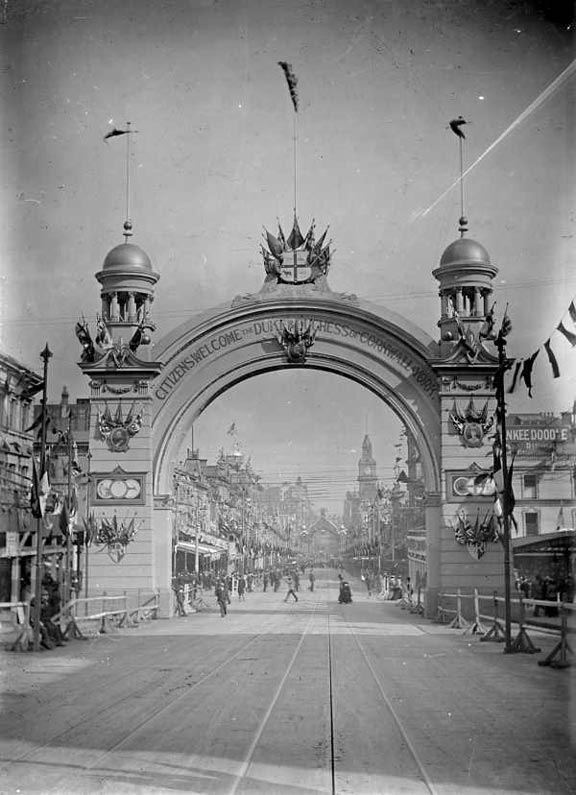 Description
This is a black-and-white print from a 16.6 cm x 12.1 cm half-plate glass negative showing an arch across Bourke Street, Melbourne, erected to welcome the future King George V and Queen Mary to Australia in May 1901, and to celebrate Federation and the opening of the first Australian Parliament. Flags fly from the turreted triumphal arch, which is decorated with images of the royal couple and the words 'CITIZENS WELCOME THE DUKE AND DUCHESS OF CORNWALL AND YORK'.
Educational value
This asset depicts an 11-m-wide triumphal arch along the route travelled by the Duke and Duchess of Cornwall and York following their arrival in Melbourne on 6 May 1901 - a series of nine temporary arches was built from St Kilda Pier to the city's centre, representing the imperial connections of the new Commonwealth of Australia.
It indicates the extent of the welcome given to the future King George V and Queen Mary, who visited Melbourne to open the first Australian Parliament - the arch was funded through donations from the public; before this photograph was taken, bands played, thousands of schoolchildren sang, and guns were fired as royal salutes.
It reveals Australia's close links with Britain in 1901 - Union Jacks adorn portraits of the Duke (left), the Duchess (right) and King Edward VII (centre); near the base of each column is a copy of the King's shield, each copy bearing the initials 'ERI' (an abbreviation of a Latin phrase meaning 'Edward King and Emperor').
It incorporates symbols of Federation - below the portraits of the royal couple are the badges of the six federated states; Victoria's badge had the blue ensign, along with the Southern Cross surmounted by a crown; Queensland's badge featured a blue Maltese cross with the imperial crown in the centre; Western Australia's badge featured a black swan with a yellow circle; the badge of New South Wales featured a golden lion on a red Saint George's cross within a white circle; South Australia's badge featured a piping shrike in a yellow circle; Tasmania's badge featured a red lion in a white circle.
It includes Melbourne's original coat of arms, which dates from 1843, on the 18-metre-high arch (above the portrait of King Edward VII) - featuring a central royal crown and wattle and a kangaroo at the top, the shield is divided into quarters by the Saint George's cross, with the quarters containing, respectively, a sheep, a bull, a whale and a ship, all symbols of early Victorian industry and trade; although not visible in this photograph, the text '1837-1901' was on the base of one of the arch's columns, with 1837 being the year Melbourne was founded.