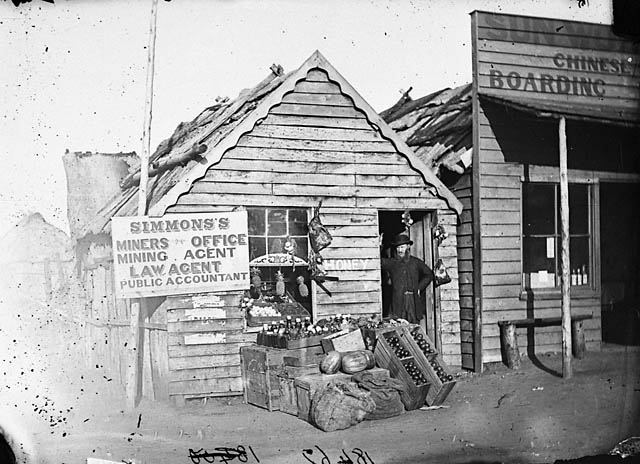 Description
This is a black-and-white photograph of a business at Gulgong in New South Wales. It shows a small slab hut with a weatherboard front and a glass window that is open and displaying goods for sale inside; outside there are boxes and bags of produce stacked against the front wall, and some items hanging from nails on the wall. A sign attached to the building states: 'SIMMONS'S / MINERS OFFICE / MINING AGENT / LAW AGENT / PUBLIC ACCOUNTANT'; 'HONEY' is painted on the front wall. A bearded man stands in the doorway. Part of a boarding house for Chinese immigrants can be seen next to the hut. The photograph was printed from a quarter glass plate negative.
Educational value
This asset depicts a business typical of many that operated in the towns that sprang up following gold rushes - people eager to make a fortune rushed to stake a claim and find gold, while others opened businesses to cater for diggers' needs; it was easier to make money as a storekeeper or gold trader than as a miner, with high prices being charged for food and other necessities.
It shows one of the mining offices that operated on the gold fields - gold diggers were forced by circumstances to sell their gold at mining offices, at prices that were often well below the official rate; if NSW diggers took their gold to Sydney, they risked losing their claim to someone else or being robbed on the way.
It indicates that honey could be bought on the gold fields - most diggers survived on flour, mutton, tea and sugar, as these were the most affordable items available; only successful diggers could afford luxuries such as honey, cheese, butter and jam.
It shows some early buildings in Gulgong, a town that began in 1870 as a temporary mining camp - Tom Saunders had found gold at Red Hill, where there were large quantities of gold close to the surface; within six weeks there were 500 people on the site and this number had grown to 10,000 by the time the town was gazetted in 1872; as the alluvial gold soon ran out, by 1881 the population was only 1,212; Gulgong survived due to agriculture and the arrival of the railway in 1909.
It includes part of a boarding house for Chinese immigrants - many Chinese people immigrated to Victoria following the discovery of gold in 1851 and moved from one gold field to another, as did Chinese businessmen who provided goods and services for their countrymen; by the 1870s increasing numbers were returning to their homeland, but a few chose to stay and run businesses, marry and settle permanently in Australia.
It shows an aspect of a town where Henry Lawson lived as a young boy from 1871 to 1872 - Lawson set several of his short stories there; in 'Water them geraniums', he describes Gulgong as 'a wretched remnant of a town on an abandoned goldfield'.